What is the biggest shipbuilding company in the world? Hyundai Heavy Industries Co., Ltd. (HHI) is the world's largest shipbuilding company, headquartered in Ulsan, South Korea. It has seven business divisions: Shipbuilding, Offshore & Engineering, Industrial Plant & Engineering, Engine & Machinery, Electro & Electric Systems, Construction Equipment, and Green Energy. Hyundai Shipbuilding Division, the world's number one shipbuilder, leads the global shipbuilding industry with a 15% share of the market. The Hyundai shipyard stretches over four kilometers along the coast of Mipo Bay in Ulsan, Korea. The Shipbuilding Division is capable of building all types of ships to meet various demands from its clients. It has ten large-scale drydocks with nine huge 'Goliath Cranes'. Since the shipyard's groundbreaking in 1972, HHI's Shipbuilding Division has garnered many awards and set many records within the shipbuilding industry.

Hyundai's Major Shipping Product Areas
Shipbuilding: Containership, Drillship, LNG Carrier, Naval ship – including technologies such as Skybench.
Construction Equipment: Excavator, Wheel Loader, Backhoe Loader, Road Roller, Forklift
Offshore & Engineering: FPSO, Semi-submersible
Industrial Plant & Engineering: Power plant, Oil & Gas production facility, Desalination plant
Engine & Machinery: Marine engine, Engine power plant, Industrial robot
Electro Electric Systems: Transformer, Gas Insulated Switchgear, Substation
Green Energy: Wind turbine, Solar module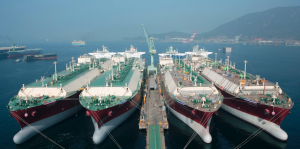 The Division reached the 10 million DWT production mark in 1984, and reached the milestone of 20 million DWT in 1988, 30 million DWT in 1991, 40 million DWT in 1994, 50 million DWT in 1997, and 100 million DWT in 2005. The Division has delivered more than 1,840 ships to 282 shipowners in 48 countries since 1972.
HHI's Special & Naval Shipbuilding Division, as a licensed National Defense Industrial Shipbuilder and engineering consultant for the Korea's navy, has the technology to design and build modern, reliable submarines, naval ships and auxiliary service vessels of various proven and advanced hull forms.
What are Hyundai's Main Maritime Products?
VLCCs, Tankers, Shuttle Tankers, Product Carriers, Chemical Tankers
Drillships, FPSOs
Containerships, Bulk Carriers, OBO Carriers
Ro-Pax Ships, Ro-Ro Ships, Pure Car Carriers
LNG Carriers, LNG FSRU, LPG Carriers
Submarines, Destroyers, Frigates
Source: Hyundai Heavy Industries Co.; Ltd, Wikipedia Commons
Train Your Best With The Best