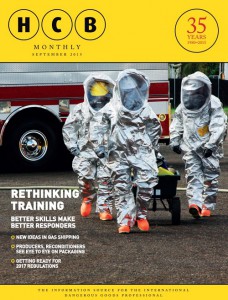 Rethinking Training: Managing Compliance Training in a Post-LMS Era
By Peter Mackay
Editor–in–Chief
Hazardous Cargo Bulletin
HCB Monthly
Recordkeeping • Managing compliance training in a post-LMS Era
offers opportunities for efficiency gains, according to AQT Solutions
The use of learning management systems (LMSs) as a way of maintaining training records in companies subject to the requirements of dangerous goods transport regulations is becoming more common. However, those systems are limited in their scope and application. Instead, users should consider the benefits of a training management system (TMS), according to AQT Solutions. Most transport incidents involving hazardous materials are the result of human error, and training is – as regulators stress – the best approach to incident prevention. While effective training is important in managing safety, enforcement activity will focus on the availability of training records. As such, effective recordkeeping is vital from the point of view of compliance. Whether a company is large or small, it is faced with the same challenge of maintaining safety and compliance within a complex regulatory environment.
MULTI-AGENCY DEMANDS
Shippers and carriers of hazardous materials will undoubtedly be subject to the training requirements of one or more regulatory agencies, and their in-house personnel will also require health and safety training.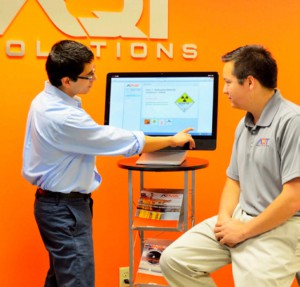 Depending on the modes by which they are shipping goods, there could be a lengthy list of overlapping and potentially conflicting training needs. One common theme running through all of these regulatory entities is that training records must be retained and be made available on demand for inspectors. The reality is that a lot of companies rely on paper methods or spreadsheets to manage their training. Having a TMS offers the freedom to break away from these occasionally risky practices by electronically managing training courses and records. When paper records are the only method of tracking and retaining training information, managers are often unsure of where a trainee's status actually stands; AQT's Advanced Training Management System (ATMS) provides a centralised data repository with a summary of each trainee's real time status, history and future training requirements. Companies that manage an extensive catalogue of training with varying regulatory bodies across many modes of transport and geographic locations can especially benefit from the ability to centrally locate and manage all of their training records. The main pitfall facing dutyholders comes from relying on manual recordkeeping processes that allow for a lot of human error, and not maintaining training and trainee information in one location. The reality is most companies have many different departments managing their training processes. Responsibilities are spread out over an organisation and multiple managers, which can create miscommunication and disorganisation. Applying an LMS helps little; while it may be useful for a single set of e-learning courses, it is generally unable to manage the diverse needs of most operators. The user may receive notifications of course completion, but the actual management of the trainee and aspects surrounding training currency are not handled. Companies often purchase courses through an LMS provider but then have little control over the management of the courses or the billing for those courses. They are even charged by the LMS vendor for delivering courses that were developed and owned by the company, and per-click costs can be high.
COME TOGETHER
AQT's ATMS allows all of the departments managing training to come together virtually. A trainee exists once in the system but everyone can see where that employee stands in regards to all of their training records and information. ATMS combines regulatory compliance training requirements into a single, integrated recordkeeping system, substantially reducing the possibility of missed or overlooked training requirements. ATMS can also be used to store and manage employee certifications and personal HR data and identifying information.
"COMPANIES CAN BENEFIT FROM THE ABILITY TO CENTRALLY LOCATE
AND MANAGE ALL OF THEIR TRAINING RECORDS"
It is essentially a one-stop shop for all training and recordkeeping data. Smaller organisations tend to have fewer resources dedicated to tracking their employee training records. Those duties may be split among various personnel responsible for different groups of trainees, each using their own recordkeeping methods. Large corporations manage higher volumes of employee training and may have more resources dedicated to recordkeeping, but do not necessarily have a cohesive way to effectively manage the process. They also may be burdened with providing and managing vendor/partner training across multiple geographic locations. So, regardless of the size of an organisation, there are common challenges that companies face when they are relying on manual processes. A TMS helps companies organise and issue their training materials, deliver the training, and record and store the required results and information. In effect, ATMS is a TMS with a built-in LMS, managing all training requirements for those in the regulated environment. ATMS goes beyond the capabilities of an LMS by managing multiple training schedules, collecting grades on any type of training, handling vendor training they may be responsible for, managing training expiration dates for qualifications, handling recurrent training, and managing certificate currency issues.