AQT Solutions is excited about today's announcement that Alaska Airline closes acquisition of Virgin America and very proud to serve both 
Alaska Airlines
and
Virgin America
with our best-in-class training management system ATMS. Alaska Air Group Inc. announced it has closed its acquisition of Virgin America The definitive merger agreement, which was signed in April and approved by Virgin America shareholders in July, brings together two of the country's favorite airlines into a unified force that will provide an attractive alternative to the "Big 4" airlines that currently control 84 percent of the domestic market. Alaska Airlines and Virgin America will spend the next year working to secure Federal
Aviation
Administration (FAA) certification to allow the two airlines to operate as a single carrier (with regional sister carrier Horizon Air remaining on its own separate operating certificate).
"Alaska Airlines and Virgin America are different airlines, but we believe different works – and we're confident fliers will agree," said Brad Tilden, CEO of Alaska Air Group. "Together, we'll offer more flights, with low fares, more rewards and more for customers to love, as we continue to offer a distinctive travel experience. The two airlines may look different, but our core customer and employee focus is very much the same."
Today, Alaska Air Group boasts nearly 1,200 daily flights to 118 destinations, the most seats on flights from the West Coast and more than $7 billion annual revenues. Alaska Air Group will continue to provide customers the low fares, unmatched reliability and award-winning service they've come to enjoy, while offering a convenient schedule of flights to even more of the places they want to fly. Soon Virgin America customers will have access to a route network that offers six times more daily flights than before.
"This partnership is positive for California air travel consumers and demonstrates an investment in our state," said Gavin Newsom, Lieutenant Governor of California. "Both airlines boast a strong history, and we look forward to seeing their innovative spirit magnified with their global international network of partner airlines."
The combination expands service and provides more frequent connections to international airline partners in thriving technology markets in the Bay Area, Los Angeles and Seattle. Together, the airlines offer 289 daily flights to 52 destinations from California, including 113 daily nonstop flights to 32 destinations from three Bay Area airports and 105 daily nonstop flights to 37 destinations from four Los Angeles area airports.
In addition, the combination opens up growth opportunities in important East Coast business markets by increasing Alaska Air Group's access to high-demand airports like Ronald Reagan Washington National Airport and the three primary New York City-area airports: John F. Kennedy International Airport, LaGuardia Airport and Newark Liberty International Airport.
The company also announced new flights from its San Francisco hub to Orlando (daily), Minneapolis (twice daily) and Orange County, California (four times daily) beginning in the summer of 2017. Schedule and availability will be announced Dec. 21.
Alaska has long been an industry leader in both customer satisfaction and performance. Customers can expect operational and customer service excellence to continue throughout the integration with Virgin America. Alaska has ranked "Highest in Customer Satisfaction Among Traditional Carriers in North America, Nine Years in a Row" in the J.D. Power 2016 North America Airline Satisfaction Study, the No. 1 spot in the Wall Street Journal's annual Middle Seat Scorecard for the past three years, and has been named the No. 1 on-time major North American carrier by FlightStats for six years in a row.
To celebrate the airlines' combined nearly 1,200 daily flights, the company will give away 1,200 round-trip flights starting Dec. 14.
Expanded benefits with Alaska Mileage Plan
Starting Dec. 19, Mileage Plan members will be able to earn miles on Virgin America flights, and Virgin America Elevate members will be able to earn points on Alaska Airlines flights. Both airlines' elite members will receive priority check-in and priority boarding on each other's flights.
Additionally, starting Dec.19, customers will be able to purchase Virgin America tickets at alaskaair.com. Tickets will continue to be available for sale at virginamerica.com for the immediate future.
Beginning Jan. 9, Virgin America Elevate members will be invited by Alaska Airlines to activate new Mileage Plan accounts. This will allow them to also earn Mileage Plan miles when flying with Alaska and any of Alaska's Global Partners to over 800 destinations worldwide. Alaska Global Partners account for 44 percent of all international airline seats flown to and from the U.S. – more than any of the big three airline alliances – and offer more than three times the worldwide destinations that Virgin America frequent fliers currently have access to.
"Beginning Monday, Virgin America Elevate members and Alaska Airlines Mileage Plan members will enjoy reciprocal rewards earning across each other's networks," said Tilden. "We plan to make this the most customer-friendly merger ever, and we will have much more to announce over the coming weeks."
Photo credit: Alaska Airlines
Related Articles: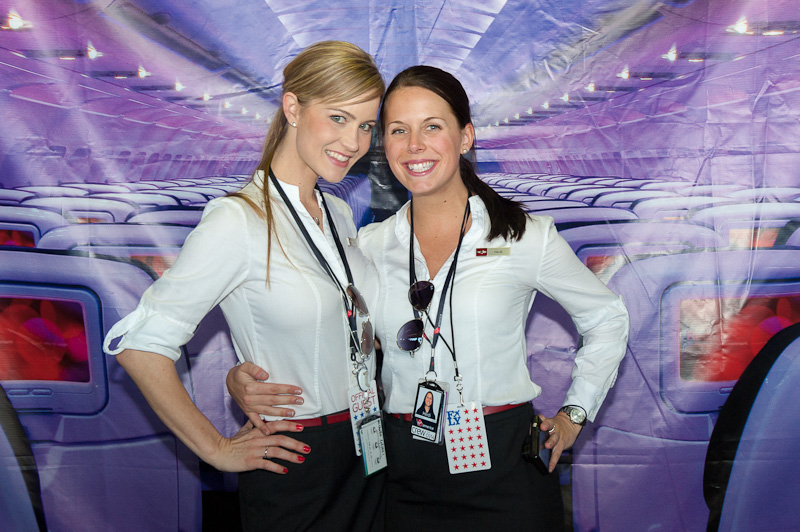 Virgin America's Training Success Story