Thursday, February 11, 2016 – Elizabeth Donahey, Director of Marketing, AQT Solutions, Napa, CA.
Today I had an amazing conversation with Adjunct Professor John Carlisle of the Massachusetts Maritime Academy on maritime training programs, who also doubles as CEO of Carlisle Maritime Group. Carlisle's life reads much like a ship log and "has been filled with water." I discovered an insider's look into a remarkable character, and was steered through his adventurous life spent mostly at sea. From humble beginnings scraping paint off tall ships off the Boston harbor, to working as a guest lecturer on a first class cruise ship around the globe speaking about Celestial Navigation, I captured glimpses of John's passion for the life aquatic. Listening to his stories, I was briefly sailed away on a maritime voyage, far too few of us landlocked mortals get the luxury of experiencing.  Let's dive in…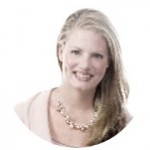 Q: First off, what led you to choose to a career within the maritime industry?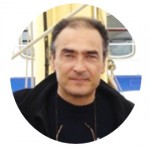 A: "When I was 18 years old, I decided to follow my childhood dream of becoming either a cowboy or a mariner, so I chose to run away as a mariner. I've really lived out my childhood dream of becoming a sailor. I can remember the very first ship I sailed on…it was one of the Windjammer fleets. I walked right up to the Captain, and he handed me scraper and a paint brush. For a year, I scraped paint off the ships, painted them and did miscellaneous carpentry projects. Then, I finally got to actually sail on a ship and started to live the dream. 
I went into the U.S. Merchant Marines and graduated with the lowest rating as an Able Seaman. I first worked my favorite type of ships, wooden or tall ships, and worked my way up to an Officer. My all-time favorite places to sail to throughout my career as a seaman was Cape Town, South Africa. I was sailing aboard the "S/V Our Svanen" (shown above) and jumped ship and hung out there for several months. Apartheid was blowing up. Bombs were going off everywhere when I was in Joburg (Johannesburg).
The reason I decided to jump ship was on account of a girl. I fell in love with a gorgeous, tall blonde South African woman. During the months I lived in Cape Town, I lived on a wooden ship. While I was there, I made a trip into the interior about a thousand miles inland, which was very scary for a sailor. I took a bus and got off in a little town I can't remember the name of that was in the Transvaal province (see South African Republic on map above) of South Africa (1910 to 1994), a province that no longer exists today. There, I got the chance to travel into the neighboring Zulu Land region and stay at on a private game reserve for two weeks. The owner had his own Zulu tribe living there…it was like I was stepping right into the pages of a National Geographic magazine. My life has been filled with water.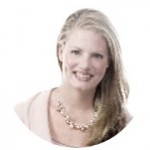 Q. How did you get into teaching maritime students at the Massachusetts Maritime Academy?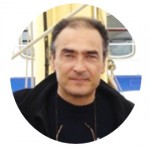 A: "How I got into teaching…when I left the wooden boats, I got into the big tankers. I had to take some licensing courses to get on the big tankers in New England. I completed my courses at  a mom and pop school in New England, and I was actually asked to teach there by the owners. The school was called the Tidewater School of Navigation. I completed my STCW which is standard in the business. I then sailed on the tankers in the early 90's while I taught and that went right through to the late 90's. Meanwhile, I was getting my maritime officers licenses. You have to get better and better throughout your career, and making connections is important in succeeding within the maritime industry. I made some great connections with the Massachusetts Maritime Academy and was asked to teach a semester. I was also teaching at the Union School simultaneously as a regular instructor. I would sail and teach, and sail and teach, and really teach my students the real stuff in the classroom. My time ended at the Union School. Three weeks later, the Academy (Massachusetts Maritime Academy) called me and I started teaching there as an Adjunct Maritime Professor,…that was four years ago. Throughout my career, I've worked for many different types of ships. When I got my Third Officer's license, I couldn't get into U.S. unions, but I went into Norwegian Union and they put me on different ships. As a mariner, you have to move around a lot, unless you are a Senior Officer. You are on one ship 90 days at a time. The U.S. Merchant Marine and the Military Sealift Command are union ships. I've sailed these ships. The Federal Government owns these ships, plus the smaller holding companies. You become a civil servant working for the Feds. It's similar to aviation. It's such a small world…we have to share sea and air space, and it's becoming more and more government-regulated.
I've sailed on the big tankers which are the supply ships that carry all the fuel food, tanks and hummer vehicles for the military.  At one point in my career, I was asked to be a guest lecturer and crossed the Atlantic many times on the Royal Clipper (shown above), a gorgeous five-masted, fully-rigged tall ship. This ship was a replica of Preussen, a famous German cargo ship. The ship would have to cross the Atlantic every year. I had to fly wherever the ship was and sail from there. Many of the lectures I gave on this ship were on Celestial Navigation. You wanna to see a first class ship? This is it!"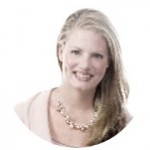 Q. What are some of the most challenging courses that your students have to complete?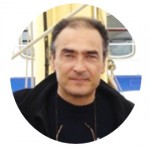 A: "Celestial Navigation (or astro navigation), Stability and Trim of Marine Vessels, these classes are the rule of the road you have to learn to become a mariner. Maritime students graduate with a B.S. in Marine Transportation, and then they go on to complete their Merchant Marine licenses, which is done immediately after.
Maritime education and training is a fascinating sector with so many human factors involved. People are rapidly filling up the earth. 90% of the world's commerce is seaborn. The maritime sector is huge."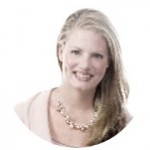 Q. When hiring a maritime graduate, what are the top three attributes you would recommend to hiring managers look for in an employee in terms of knowledge and skills?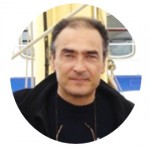 A: "There has to be a certain kind of maturity. Even a young 20 year old, just first getting his or her license either on the deck or engine side, needs to possess a high level of maturity. You have to have a willingness to learn and take initiative, have a balanced lifestyle, and be level-minded, patient and get along with and collaborate with lots of other people. You have to have good leadership qualities, and you have to be able to take orders. To stay on top of maritime education, skills and industry trends, I recommend the Nautical Institute's "SeaWaves Magazine" which tunes you from a maritime regulations, human factors, education and training standpoint."
 Feature Photo: Painting by John Harvey 
 ATMS Maritime Training Systems
for Improved Safety & Compliance