Announcing the Launch of ATMS  for Regulatory Compliance
AQT Solutions is pleased to announce the launch of an important new training area for ATMS (Advanced Training Management System), Regulatory Compliance, and is a regulatory compliance training management system specifically engineered for manufacturing and transportation logistics providers including freight trucking, railroad companies and beyond. This latest version of ATMS ensures training and recordkeeping compliance for this industry.
Audit-Ready Compliance Management
ATMS for Regulatory Compliance is ideal for companies that must adhere to a variety of domestic and international regulations to ensure a high standard of compliance, safety, security and quality. Manufacturing and transportation logistics providers including freight forwarders, 3PL's (third party logistics), courier operations, shippers and carriers of hazardous materials/dangerous goods and airport authorities all must follow set guidelines in regards to training and recordkeeping.
Having worked with and analyzed this industry, we developed ATMS for Regulatory Compliance knowing there is a significant need for a practical training, scheduling, recordkeeping, grading and testing system. Our system offers organizations the advanced tools needed to reach higher performance standards for both instructors and trainees. We understand the critical nature of proper training and recordkeeping to avoid LOI's (letter of investigation), violations and fines. ATMS for Regulatory Compliance management training software provides audit-ready solutions for companies that must comply with training and recordkeeping requirements in the CFR's including DOT, PHMSA, TSA, FAA, OSHA, EPA as well as also international air transportation requirements under ICAO Technical Instructions and IATA Dangerous Goods Regulations. Our training management software manages end-to-end compliance training and recordkeeping requirements. Bill Carson, AQT Solutions' CEO, articulates:
"Expanding ATMS into new industries that require strict regulatory oversight is a critical step in the continuous improvement and evolution of these organizations."
Key Benefits & Features 
ATMS for Regulatory Compliance's advanced technology encompasses all of the proven benefits and features of ATMS for our other industries. Most significantly, ATMS for Regulatory Compliance will streamline and simplify training management processes into one concise system. Key functionality of the system includes:
Delivers existing training programs and allows for the development of e-learning through an integrated LMS.
Provides a record of training history for each employee showing successful completion to include dates, test questions, and test scores.
Recurrent training dates are automatically scheduled upon successful completion of initial or change in job function training.
Storage and issuance of certificates of training, records of completion and other pertinent recordkeeping and qualification data.
Trainees and instructors have access to an up-to-the-second training schedule and immediately receive notifications of training assignments and changes to their training. The system reduces the administration time and costs while ensuring increased information accuracy and currency. Instructors may enter take-home tests or computer-based training (CBT), enter grades, task results, and comments. MyATMS enables trainees to launch self-study, e-learning content, and tests in a SCORM-compliant manner – regardless of whether the training content is SCORM-compliant. MyATMS Mobile provides instructors with touch grading on mobile devices with the ability to upload results quickly and easily. The future of regulatory compliance training management is here.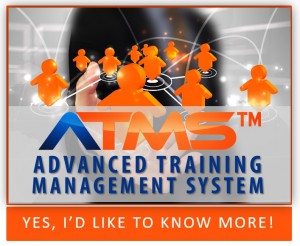 ABOUT THE AUTHOR:
As AQT's Regulatory Compliance Analyst, Melissa Powers has extensive experience utilizing ATMS for a variety of training operations.  As AirNet System's Regulatory Compliance Coordinator for over 15 years, Melissa was responsible for managing an extensive dangerous goods training program, TSA security programs and an airport security program.  Melissa is knowledgeable in areas of dangerous goods/hazmat and TSA compliance and the complexities surrounding these regulatory areas.